For any business, it is important to have the right environment to showcase the company's products or services. From walls and floors, to ceilings and lights, the right contractor will provide customizations that will highlight any business.
Choosing the right contractor is key to having a great construction experience within a proper budget. Listed below are the top 10 contractors in San Francisco who provide tenant improvement services.
---
Richlen Construction
45 Fremont St, Suite 0002 San Francisco, CA 94105
Led by Rich Zavala Richlen Construction has been providing general contracting services in the Bay Area since 1979. As an award-winning construction company, their commitment to the environment and their clients alike has been dubbed the "Richlen Way" by their long-time clients.
Richlen has received multiple awards throughout the years, including the Commercial Interiors Contractors Association Award for best Bay Area Building Lobby, Best Reuse/Rehabilitation Project by The Silicon Valley Business Journal's Structures Awards, finalist in the Structures Redevelopment Project, and also listed in the Designboom Top 10 Workplaces. Their work has appeared in The Mercury News, The Registry San Francisco, and in the Bay Area Building Management Resource Guide.
The Regus Center at 201 Mission Street is known as the world's largest provider of flexible workspaces. Richlen worked on the tenant improvement project for the 12th floor. The 15,000 square foot project included a business lounge, assembly boardrooms, service pantry, refreshment bar and co-working area.
---
Pankow Builders
1 Sutter St, Ste 200, San Francisco, CA 94109
Since 1963, Pankow Builders has been constructing unique workspaces and residences as well as performing historical rehabilitations in the San Francisco area. Pankow provides creative problem-solving, engineering expertise and construction innovation, and specializes in design-build, design-assist, general contracting, tenant, and improvement services. The privately held company was founded by Charles Pankow and is now led by current CEO, Kum Lum.
Some of Pankow's notable construction projects include the Golden Gateway Center, built in 1995, with its monumental archway allowing travelers to enter the city's transit hub for buses, subways, Amtrak, light rail and commuter rail, as well as two LEED-Gold certified public buildings. The San Francisco Public Safety Building houses the SFPD command center, district police station, and fire station, and the San Francisco War Memorial Veterans Building hosts arts and veterans organization as well as the Herbst Theatre.
Pankow's tenant improvement project for 459 Geary Street was a 22,500 square foot one-story vertical addition, adding residential space to the mixed-use building. The project was guided by FME Architecture + Design.
---
NOVO Construction
608 Folsom Street San Francisco, CA 94107
NOVO Construction is headquartered in Menlo, CA, with offices in San Francisco and Austin, TX. The firm was founded in 2000 by James Fowler and Robert Williamson, who like to report that their first project was hanging a whiteboard for a Silicon Valley CEO. Since then, NOVO has become a LEED-certified visionary in the construction industry, specializing in data centers, manufacturing sectors, and tenant construction.
NOVO Constructions' work has earned them the IIDA-NC Honor Award, and the Interior Design's Best of Year Award. They have been ranked #2 on the Silicon Valley Business Journal's Largest General Contractors, and #3 in California Commercial Construction.
NOVO construction did a tenant improvement project for Indeed, the worldwide employment-related search engine. The 240,000 square foot project included nine floors ands a full-service kitchen, cafeteria, interactive lobby, communal workspaces, open floor plans, internal staircase, fitness center, phone rooms, executive briefing center, boardrooms, large flex-capacity training rooms, IT help desks, and an All-Hands area. Some of their other tenant improvement clients include Yelp, Malwarebytes, Symantec, Pinterest, and Survey Monkey.
---
Nibbi Brothers General Contractors
1000 Brannan Street, Ste 102 San Francisco, CA 94103
Nibbi Brothers General Contractors began its business in 1950 by Mariano Nibbi, who then passed his business to his two sons, Sergio and Larry. In 1966 Nibbi celebrated the milestone of $1 million in annual revenue, and in 1973, was recognized for building 63 prefabricated portable classrooms on 21 sites for the San Francisco School District in a mere 90 days, a task that was thought to be impossible. Today, the company is led by Sergio's sons Bob and Michael, who serve as president and vice president, respectively. The firm specializes in commercial, community-based, educational, mixed-use, multi-family, seismic, historic and waterfront construction.
In 2002, Nibbi began requiring their Project Managers and Pre Construction Managers to have LEED Accreditation, and since then have followed the philosophy based on the "triple bottom line" of sustainable building designs. They believe that every sustainable decision must have a positive social, environmental, and economic impact.
Nibbi was hired by Hotel Abri-originally called Monticello Hotel, a survivor of the 1989 Loma Prieta earthquake- to complete a renovation for their guest rooms. The tenant improvement project included a full lobby and renovations to public spaces and guestrooms, including an electrical system reroute.
---
BCCI Construction Company
1160 Battery Street, Suite 250 San Francisco, CA 94111
Building beautiful structures throughout San Francisco since 1986, BCCI Construction Company has a mission to expand the role of a builder; taking the business beyond just a vendor and contractor, and turning it into collaborator and confident. The firm specializes in structures and interiors, and their expertise spans a diverse range of industries and projects scopes. The foundation of their business is earning the praise, trust, and referral of their clients.
Offering a range of preconstruction, design-build, project management, architectural, and sustainability services with an expanding market range that includes new construction, major building renovations, historic restorations, seismic upgrades, tenant improvements, BCCI is considered to be a leading commercial general contractor in the San Francisco area. They are ranked as a Top Contractor by ENR California and consistently ranked "Bay Area Best Places to Work" by the San Francisco Business Times.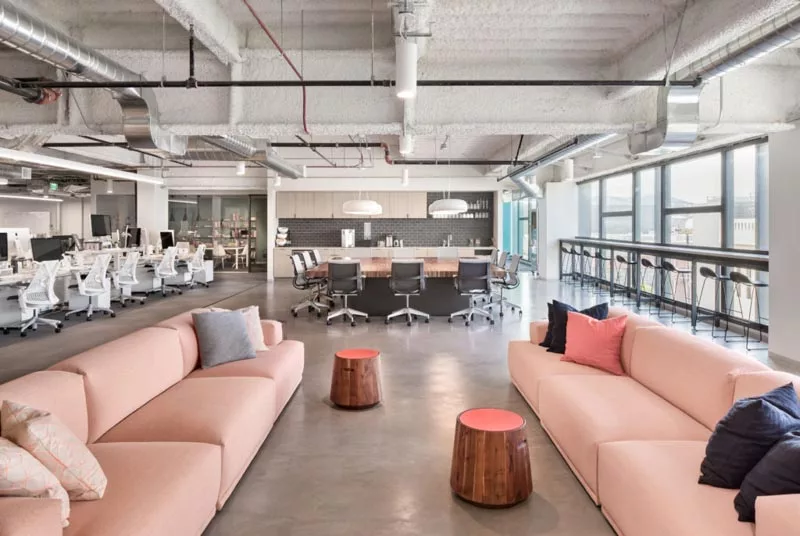 BCCI was hired to complete the core and shell construction of the San Francisco Collective Health office. They were also tasked to develop five floors of tenant space. The project included open office space, conference rooms, phone rooms, and break areas, and a large café on the first floor doubles as an all-hands meeting space. The project was led by the Studio O+A Architect team.
---
DPR Construction
945 Front Street San Francisco, California 94111
DPR Construction was founded in 1990 by Doug Woods, Peter Nosler, and Ron Davidowski. The name of the company was also taken from their first names, hence, DPR. They began their company with $750,000 and a steadfast determination to do something different in an industry that is resistant to change. DPR's services include collaborative virtual building and building information modeling, sustainable construction, preconstruction, special services that focus on small to mid-size projects, self-perform work, and safety services.
DPR Construction has been the recipient of multiple awards, including the ENR Southeast 2018 Best Project in Residential/Hospitality, the ASHRAE Technical Award, the CMAA South Atlantic Chapter Annual Award – Best in Class new Healthcare project, the ABC Georgia Chapter Excellence in Construction Award for Camp Southern Ground Peterson Dining Hall – Merit Award, the ENR Top 400 Contractors List, BD+C Building Team Awards, CoreNet Mid-Atlantic 2018 Corporate Real Estate Awards of Excellence, WBC Craftsmanship Awards, and All Precast Concrete Solution Award.
DPR was hired to do a Tenant Improvement project for Baker & McKenzie, a global law firm. The project is located at the 10th and 11th floors of 2 Embarcadero Center in downtown San Francisco and includes a communication stair between floors, private offices around the perimeter, three conference rooms with advanced audio-visual capabilities, a law library, high-end lobby finishes, and a sophisticated lighting package. Working with FME Architecture + Design, the project was finished within five months.
---
SKYline Construction
505 Sansome Street, 7th Floor San Francisco, CA 94111
Skyline Construction is a general contracting firm that was founded in 1996. Focusing on the Bay Area, SKyline has 5 offices located in Silicon Valley, San Francisco, Oakland, Pleasanton and Walnut Creek. The firm specializes in tenant improvements, implementation of critical building upgrades, and commercial constructions including ground up and renovations. Most notably, the firm was responsible for the construction of the headquarters of Pandora, Invisalign, and Medivation.
Skyline Construction was the recipient of the Bank of America Platinum Service Award and the Commercial Interiors Contractors Award. In addition, it was named as one of the Best Places to Work in the Bay Area, as well as listed as one of the Top 25 Commercial Contractors. The firm also appeared in the Top 100 Fastest Growing Businesses in the Bay Area.
Skyline construction recently completed a project for the retailer Jamba Juice. The project was a combination of tenant improvement and construction of a commercial kitchen and research and development center for Jamba Juice's corporate headquarters. Features included walk-in refrigerators, freezers, test stations, and ovens. The 38,000 square foot project was led by Rapt Studio Architects.
---
Cahill Contractors
425 California St, Ste 2200, San Francisco, CA 94104
The roots of Cahill Contractors grew as a result of the great 1906 earthquake that destroyed over 80% of San Francisco. John Cahill, an Engineering graduate of the University of California, was astonished by the sad state that the city was in. With a driving belief that he had something to offer, he gave up a career on the railways and applied his skills to rebuild San Francisco. In 1916, John's Brother, Edward, decided to join him, formalizing their partnership as Cahill Bros. Builders. Today, Cahill Contractors is led John's granddaughter, Kathryn Cahill.
With over 100 years of experience and service, Cahill has gained a strong reputation as a high-quality contractor. Throughout its years in the industry, it has received multiple awards, including the Real Estate Deals of the Year Award, and the Kelly Cullen Community Receives AIA/HUD Secretary's Award. It was also listed as No. 10 in the San Francisco Business Times' Best Places to Work in the Bay Area.
Cahill Construction recently completed a project at 101 Montgomery Street, a 400-ft high-rise office building with 28 floors, worth $12 million. Improvements on the building included the demolition of approximately 140,000 square feet of office space on 13 floors, and self-performing the doors, frames, and hardware scope. The project was led by Huntsman Architectural Group Pollack Architecture.
---
McCarthy Building Companies, Inc.
1265 Battery St. San Francisco, CA 94111
With more than 150 years in the industry, McCarthy Building Companies, Inc. has experience in building in communities across the U.S. . Founded in 1964, it is one of the oldest American-born construction firms. With modest beginnings building farmhouses and barns, McCarthy now specializes in a wide variety of markets including healthcare, university, laboratory & science, K-12 education, commercial, government, renewable energy and civil.
McCarthy's exemplary work has garnered it multiple awards throughout the years. Some of its most recent awards include the Arizona Workplace Success Award, the RED Award, the SPIRE Award, the Jury's Choice Award, the AZRE Commercial Real Estate Bluebeam eXtreme No Limits Award, the AGC Building Excellence Award, the ENR Best Project Mountain States, the LABC Architectural Award, and the AIA Award of Merit.
McCarthy was responsible for the work on the Cannery, a 3-story masonry brick building at Fisherman's Wharf in San Francisco. The project included renovations and seismic upgrades as well as tenant improvements. Working with Kwan Henmi Architecture/Planning, Inc. and Stavi Architects, McCarthy completed the 35,000 sq ft project with minimal to no disturbances to the 30 existing tenants. Though some designs were still being developed at the start of construction, McCarthy still was able to finish successfully and on time.
---
Webcor Builders
207 King Street Suite 300 San Francisco, CA 94107
Webcor, founded in 1971 by Bill Wilson, Ross Edwards, Dave Boyd, and Miller Ream, began with the collective goal to become better and better with every project. This goal drove them to become one of the highest-regarded contractors in San Francisco. Webcor began building low- to mid-sized office buildings, and has since expanded to a wider market. Their first project in San Francisco was the Museum Parc high-rise, a 15-story luxury condominium complex with retail spaces and parking garage. This project has consistently won awards, even 16 years after it was built.
Webcor's award-winning construction projects include the SFMOMA expansion, Infinity Towers, and the Lucas Digital Arts studio, the largest project that they had overseen at the time. Webcor was ranked #11 in the list of Top Green Building Contractors by the ENR, and received ISO 9001 Certification, the only California-based general contractor to have done so.
Webcor was hired to work on an extensive project for the Diane B. Wilsey Center for Opera, located on the fourth floor of the Historic War Memorial Veterans Building. The tenant improvement project involved creating office spaces, a costume shop, a performance space, an education/rehearsal studio, two public exhibition galleries, and an additional 10,000-square-foot space for fitting rooms and costume storage. Webcor worked with preservation architects to preserve the original 1932 historical fabric of the building . The project was granted Gold LEED Certification.