Overview
Pacific Heights is home to some of the nicest homes in San Francisco. Sitting on a hill with views of the San Francisco Bay these homes are beautiful. We wanted to see the homes in Pacific Heights that are newly designed. To do so, we looked at the homes that have completed major renovations in 2016. For this project, our borders are those designated by the city running east to west from Presidio Avenue to Van Ness and north to south from California Street to Green Street. Last year, 186 homes in Pacific Heights completed construction projects. Of this large list, 23 homes were either new or underwent major renovations, which we define as any home with a building permit marked as greater than $200,000. Below are the newly designed homes in Pacific Heights, the architects that designed them and more. Take a peek inside some of the newest nicest homes in the city and learn who designed them!
Beautiful 2016 architecture in Pacific Heights and the architects behind each home.
Districts & Streets
Washington Street
2370 Washington Street, San Francisco
Architect:
NOA Design + Construction
In the summer of 2016, 2370 Washington Street underwent a full interior remodel of the garage, 1st, 2nd, and 3rd levels. While the exterior remains mostly the same we love the new entry.
2312 Washington Street, San Francisco
Architect:
Anand + Associates
2312 Washington was designed by Anand + Associates and finished work early in 2016. Amongst other things, the project involved exterior and interior renovations including adding a new media room, bath, and laundry on the bottom floor. The classic style, geometric design, and simple colors give the home a graceful elegance.
Vallejo Street
2427 Vallejo Street San Francisco, 94115
Architect:
Geiszler Architects
Geiszler Architects' design on 2427 Vallejo Street enlarged the garage, added a library, bath, and an elevator. The newly remodeled home also underwent a full kitchen remodel, added a wine cellar and much more.
2400 Vallejo Street San Francisco, 94115
Architect:
William Craig Architect
William Craig Architects recently remodeled the interior of this beautiful brown shingle home.
2841 Vallejo Street San Francisco, 94115
Architect:
Mason Miller Architect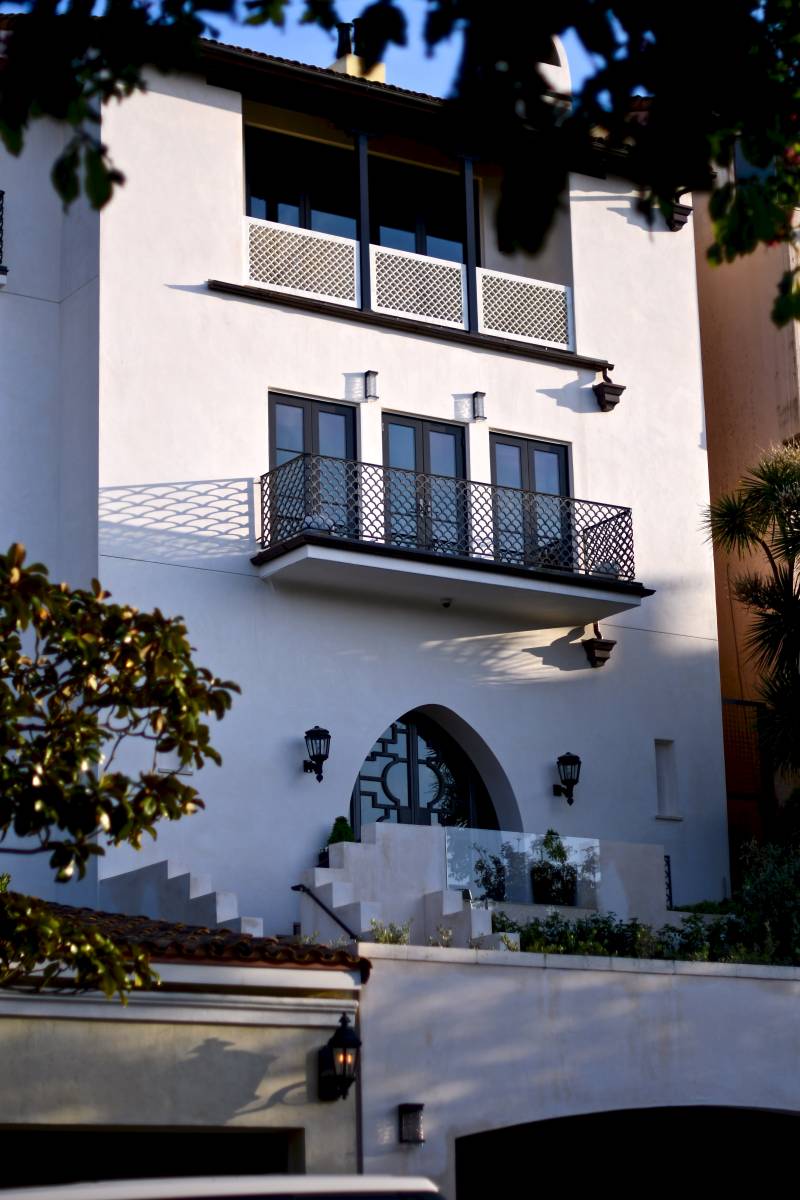 This Mason Miller Architect's designed home has beautiful balconies, a simple white facade, and elegant flourishes. The classic Mediterranean feel of this home fits well with its towering bay view.
Steiner Street
2744 Steiner Street, San Francisco, CA
Architect:Sutro Architects
Smaller than some of its next door neighbors this home was recently remodeled by Sutro Architects. The white gate prepares you for the beautiful renovation inside.
Scott Street
2612 Scott Street, San Francisco, CA
Architect:Hood Thomas Architects
Cool gray with white trim this home was built for the San Francisco fog. The block like the simplicity of the home is mirrored in the punched out windows on the roof. This four-story house is complete with 4 bedrooms, 4 baths, a media room, play room and more.
2101 Scott Street, San Francisco, CA
Architect:Jim Jennings Architecture
This home is brand new with tape still on the windows. The rich color of wood accents catches the passerby's eye in contrast to the white stucco exterior. The new deck seems almost as if it was built into the nearby oak tree.
Sacramento Street
2914 Sacramento Street, San Francisco, CA
Architect:McGriff Architects
This quaint yellow Victorian is perfect for the backside of pacific heights (aka Lower Pacific Heights). With a brick staircase and a blue accent door, this home is inviting and cozy. The recent renovation was designed by Mcgriff Architects and completed in the fall of 2016.
1919 Sacramento Street, San Francisco, CA
Architect:Sutro Architects
Two blocks from Van Ness and less than a block from Alta Plaza Park this sea-foam home with white trim is hidden by trees. Delicate and understated from the outside the inside amazes. This home was finished just after the new year in 2017. Like 2744 Steiner earlier on the list, this home was designed by Sutro Architects.
Perine Place
64 Perine Place San Francisco, CA 94117
Architect:McGriff Architects
Tucked into a quiet alley this home is different than many on the list. The glass window and iron gate are absolutely wonderful. Designed by Jame Stavoy the home was completed in the summer of 2016.
Pacific Avenue
3052 Pacific Ave, San Francisco, CA 94117
Architect:Geddes Ulinskas Architects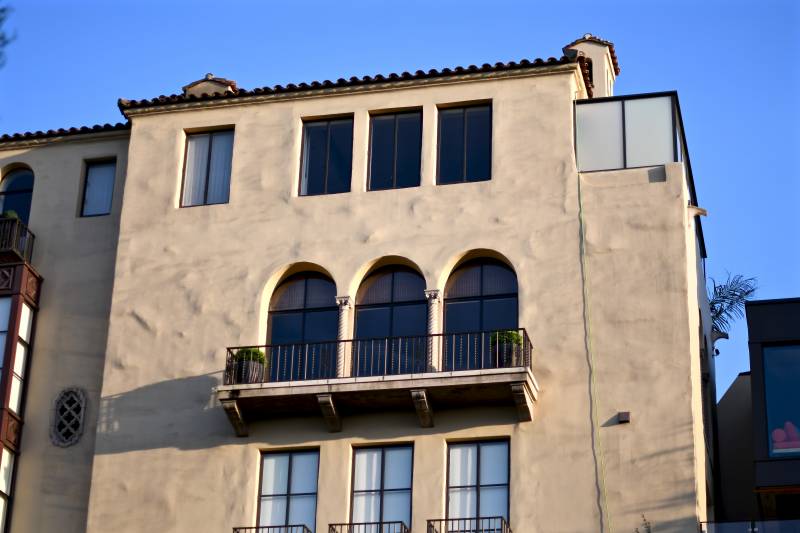 With an entrance on Pacific Avenue, this home can be seen towering on the south side of Broadway. This Billionaires Row Residence is spectacular. With a classical facade, the home is flanked by two more modern wings. Hedges wind up the hillside covering the first floor and a walking path. The home has a lower level that pops out of the eastern hillside and a courtyard complete with an archway that separates the main building from the western wing. While permits indicated this Geddes Ulinskas designed home was completed at the end of 2016 there were still a few construction signs up when we looked at it.
Lyon Street
2320 Lyon Street, San Francisco, CA 94117
Architect:John Maniscalco Architecture
With views of the bay, the Presidio and Lyon Street steps this home's windows are spectacular. John Maniscalco's simple design focuses on horizontal lines that make the home feel as if it is jutting out over the bay. This 3 story home has a terrace and rooftop lawn.
Jackson Street
2570 Jackson, San Francisco, CA 94117
Architect:Butler Armsden Architects
2510 Jackson Street, San Francisco, CA 94117
Architect: Sutro Architects
Brodrick Street
1920 Brodrick Street, San Francisco, CA
Architect:07 Studios
2113 Brodrick Street, San Francisco, CA
Architect:Lowe Design and Construction
2113 is a classic white victorian harking back to a time before architects started adding color to these San Francisco icons. While this home is anchored in the past, modern flourishes such as the staircase and lower level make the home stand out in the modern landscape. The balance and transition between past and present are smooth and seamless.
Clay Street
2422 Clay St, San Francisco, CA
Architect:John Clarke Architects
Broadway Street
2674 Broadway, San Francisco, CA 94117
Architect: Jensen Architects
2840 Broadway, San Francisco, CA 94117
Architect: Butler Armsden Architects
This Gold Coast (Billionaires Row) home was bought in 2011 by Larry Ellison and is next door to his other San Francisco residence. The recent overhaul by Butler Armsden has a classical exterior and even has gargoyles. The remodel involved a 3-story lightwell to allow more light into the home and a large renovation of the 4th floor with the addition of a roof deck. The project also converted the basement into a large inhabitable area.
2712 Broadway, San Francisco, CA 94117
Architect:Taylor Lombardo Architects
This modern home was recently listed on the market by developer Bill Campell as San Francisco's most expensive home. The Taylor Lombardo designed home first began construction 7 years ago. The seven bedroom, eight bathroom and four-and-a-half bath home has two kitchens (one outdoor), two kitchenettes, a media room and two wine cellars. The 11,400 square foot modern masterpiece also has a massage room, elevators, spa, gym, and terrace. The arching roof gives contrast to the horizontal and vertical lines of the stones and windows. The extension of the roof's border over the balcony produces a sculptural quality that reminds everyone that this is a piece of art.