When designing a new building or conducting an extensive remodel, the typical process involves hiring an architect and, later, a general contractor to build what the architect has drawn up. However, a new model of construction is becoming increasingly popular: design-build. Whether led by an architect or a builder, firms that utilize this construction model provide both design and construction services.
Design-build firms serve as a one-stop-shop for various building needs, which allows clients to hire a single company to take care of an entire construction project—from the initial design stages to construction. These full-service firms often have both experienced architects and contractors on their staff, as well as interior designers and even landscape architects.
Our editorial team has selected and evaluated the top-performing general contractors offering comprehensive design-build solutions in San Francisco. Finding a great design-build firm is important given the costs of the building in San Francisco. These companies were assessed based on a number of criteria, including years of experience, mastery of the trade, and industry accreditations and certifications. The strength of their portfolios, awards, and press recognition were also considered in the evaluation of these contractors. If you want your space to be designed and constructed with the utmost care for your vision and industry standards, consider the best design-build firms in the city.
---
AT6 Architecture : Design Build
746 Natoma St., San Francisco, CA 94103
AT6 Architecture : Design Build is a company that crafts residential\ structures in the San Francisco Bay Area, each one methodically infused with modern energy to create remarkable and personalized spaces. The firm is proficient in designing and building large renovations, additions, and new homes, strictly completed within the set time frame and budget. It is backed by licensed architect and general contractor Jason Langkammerer who leads a seasoned crew of talented builders and designers who seamlessly integrate innovative methods into their building process. An open line of communication between the team and the client is cultivated during the construction phase to ensure that information is relayed in a clear and concise manner.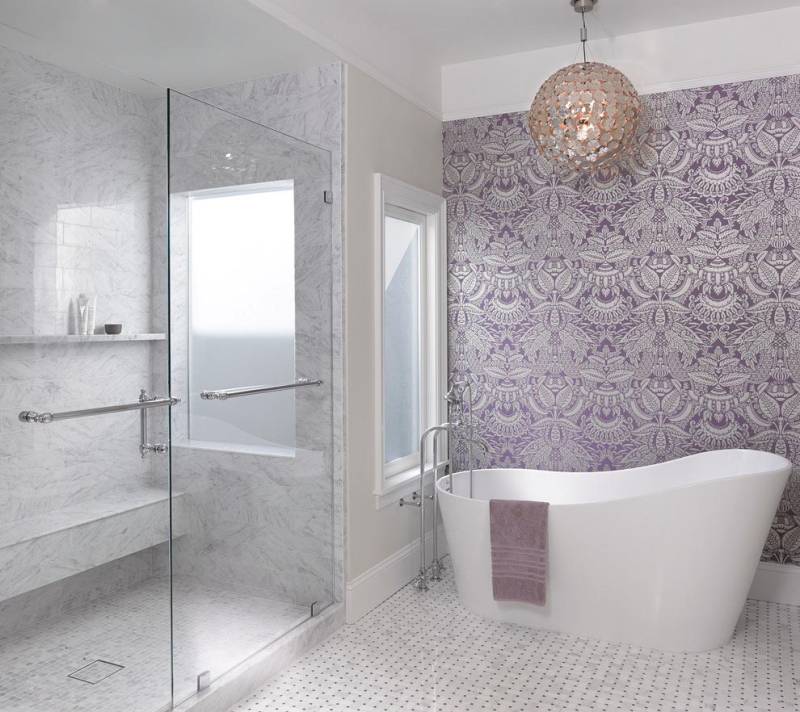 The firm has earned several awards—including a Citation Award from the Los Angeles chapter of the American Institute of Architects (AIA)—and has been featured in publications such as Thai Shelter Magazine, Small Eco Homes, the San Francisco Chronicle, and Dwell Magazine. It also appeared on California Home & Design Magazine's influential "Ten to Watch" list.
AT6 classifies its style as "modern eclectic" and emphasizes allowing clients act as co-authors of project designs. In one project, the firm renovated the master suite of a luxurious San Francisco Victorian home. The team brought a contemporary take on the traditional design of the house—in addition to working on the suite's bedroom, stairs, and hallway reading nook, the AT6 team designed a trendy ceramic tile bathroom with a purple wall and an accent lighting fixture.
---
Bay Build Design, Inc.
77 Van Ness Ave., San Francisco, CA 94102
San Francisco is one of the most challenging cities to build in because of its strict construction regulations. However, this isn't a problem for Barnum Building and Design—the design-build firm has extensive experience in all aspects of residential and commercial design and construction in the city. The full-service firm has built a reputation for its skills and integrity, creating functional and meaningful spaces for clients and their individual lifestyles. Additionally, the firm operates on the tenets of collaboration and interactivity, resulting in a solid clientele and several referrals.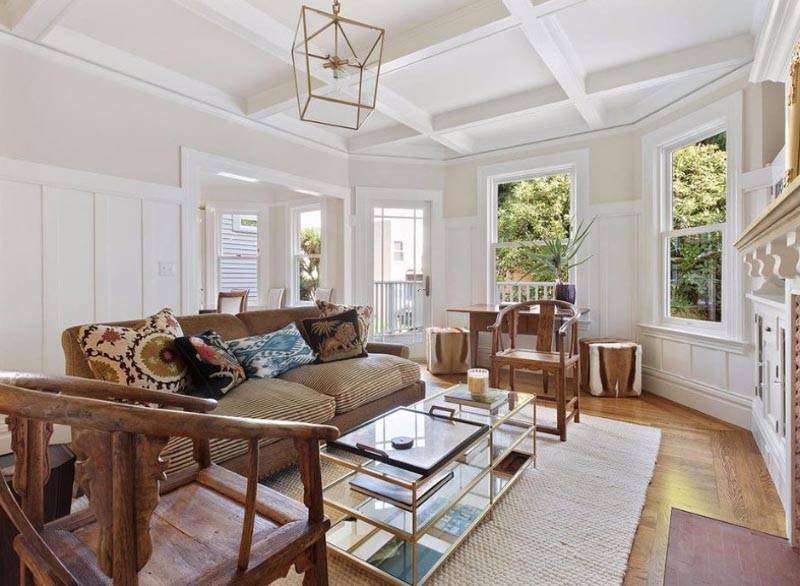 The featured home is among Barnum Building and Design's exemplary creations. The team demolished portions of the original Cow Hollow flat to make room for modern upgrades while maintaining the space's charm and elegant period character. The kitchen was revamped with new stainless-steel appliances, quartz countertops, custom cabinets, and a wine bar. Meanwhile, the dining and living rooms tout built-in cabinets with leaded glass doors, fireplaces, refinished hardwood flooring, and two large bay windows with access to the deck. Other features of the project include wainscoting and deep box-beam ceilings as well as radiant floor heat, towel warmers, and new plumbing in the bathroom and the new half-bath.
---
Buck O'Neill Builders, Inc.
1250 Missouri St. Suite #102, San Francisco, CA 94107
Specializing in residential remodeling and fine homebuilding, Buck O'Neill Builders, Inc. is capable of handling a variety of projects, ranging from large-scale renovations to small design-build projects. The practice touts years of experience in modern architecture, landmark construction, and Victorian restoration, and incorporates sustainable building practices in its works. Additionally, the firm's preferences for full involvement and open communication enable the client, architect, designer, engineer, and general contractor to become familiar with each other's practices and methods. This approach results in a well-informed environment, which allows for optimal working relationships from a project's conception to completion.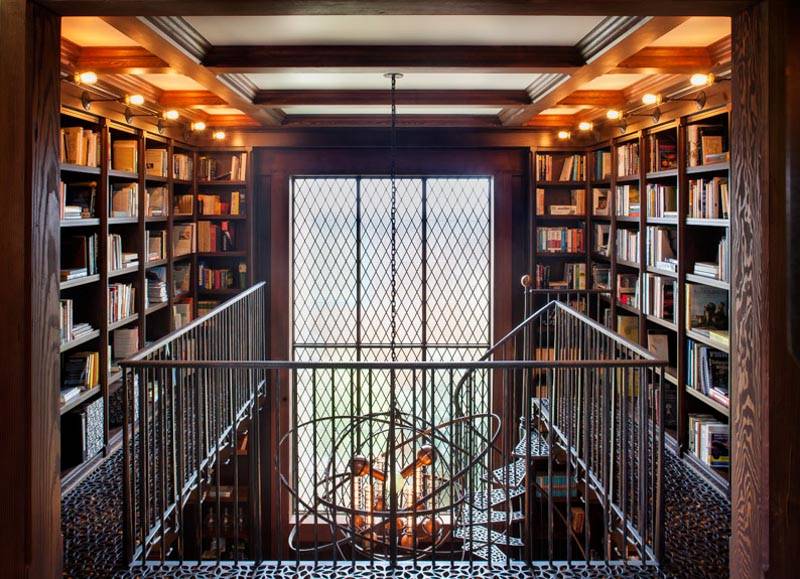 In building homes in the Bay Area, Buck O'Neill Builders has forged strong relationships with vendors and subcontractors, which has allowed it to provide unmatched design-build solutions at great values. 
To revitalize the original, exquisite grandeur of the featured historic home, the firm designed a complete restoration of the home's exterior and interior. The project encompassed a full seismic upgrade with an entire dig-out for additional square footage and the addition of a two-story library with a custom catwalk and stairway. The restored building, which was the home of San Francisco's first mayor, now touts hand-forged metalwork for railings, a Juliet balcony, and custom light brackets as well as an octagonal skylight over a gorgeous mosaic floor in the master dressing room. The renovation is LEED silver certified.
---
Building Lab
San Francisco, CA 94115
Founded in 2001, the Oakland-based design-build firm building Lab specializes in residential remodels with thoughtful and highly refined modern designs. The firm is comprised of talented designers, project managers, and architects and touts experience in new construction, whole-house remodels, additions, kitchens and bath remodels, master planning, landscape design, custom cabinetry, and furniture. The firm has been recognized with numerous awards, including multiple National Association of the Remodeling Industry (NARI) awards and Remodeling Magazine Grand Awards.
The firm is known for expertly incorporating clients' needs into the function of home designs. For instance, building Lab designed this open-interior San Francisco home for a couple that wanted an in-home studio where they could work on a variety of digital and analog tasks. The resulting building serves multiple functions, touting seamless yet distinct dwelling, work, and entertainment spaces spread throughout four floors. Elegant sets of stairs connect these spaces and enable the blurring of boundaries between work, play, and relaxation.
---
Design Draw Build
2866 Webster St., Oakland, CA 94609
Despite being founded only in 2010, Design Draw Build has made a name for itself as one of the most sought after design-build firms in the Bay Area. Its architects and contractors tout impressive adaptability in various facets of building—the firm's in-house team of professionals brings to life the firm's dynamic process, which results in economic, creative, and goal-driven designs and finished constructions. The company remains small enough to give each client the personal attention they deserve and has the skills to ensure the same level of care and quality in every architectural design, construction, design-build, and development project it undertakes.
Design Draw Build conducts a wide range of residential and commercial projects. The firm has worked on numerous houses, education centers, religious buildings, international clinics, historic renovations, custom furniture, and temporary festival architecture throughout the region. Design Draw Build projects are typically characterized by unique yet coordinated designs, such as that of the Marina District residence featured here.
---
Everlast Construction
1270 Springbrook Rd. Suite #101, Walnut Creek, CA 94597
The team of experts at Everlast Construction guides clients from the initial design meeting to project completion with a seamless process characterized by enhanced communication, organization, accountability, and budget control. Using this approach, the firm has created several award-winning design and remodeling projects in the Bay Area. With expertise encompassing exterior, interior, kitchen, bathroom, and commercial remodeling—as well as foundation repair, home additions, and roofing—the firm's unique design-build process delivers distinctive structures and spaces with remarkable client satisfaction ratings. 
Excelling in complex building projects, the Everlast Construction team touts significant experience in meeting clients' specific needs. Additionally, the firm's in-house professionals are well-versed in design methodologies that ensure consistent quality yet more economical costs. This has resulted in exquisite spaces, such as the contemporary kitchen in San Francisco featured here. The homeowners wanted more space, and the team responded by designing an open-concept layout that was made even brighter through the use of pendant lights.
---
HOUSEworks
1485 Bayshore Blvd. #157 Suite #220, San Francisco, CA 94124
With years of remodeling experience, the design-build firm HOUSEworks is equipped with the materials and professional expertise necessary to handle virtually any project with superior quality. Clients throughout the region have relied on the company for its beautiful, timely, and environmentally responsible building practices. The firm has been recognized for its impressive remodels, receiving several First Place and Remodel of the Year awards from the National Association of the Remodeling Industry (NARI) and being named among Remodeling Magazine's Big50, which is the magazine's annual list of the top 50 remodelers in the U.S.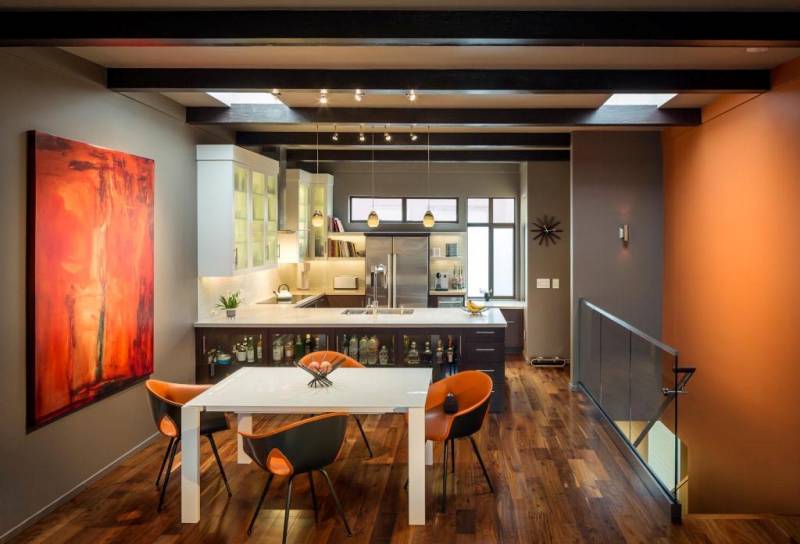 This bold townhouse in the Castro District originally had a dated 1980s interior, which did not match the client's' sense of style or support a contemporary, tech-savvy lifestyle. The homeowners contemplated moving but ultimately decided against it and hired HOUSEworks to modernize the home. The clients wanted to utilize technology throughout the building and to have a distinct bar area—the result was a completely renovated home touting natural textures and palettes and inviting entertainment spaces.
---
Marmol Radziner
612 York St., San Francisco, CA 94110
Leo Marmol and Ron Radziner started their careers as architects and were frustrated with the loss of control once a project was turned over to a contractor. So, in 1989, they started Marmol Radziner—a design-build firm that offers top-shelf landscaping and interior design services in addition to design and construction capabilities. Serving clients throughout Los Angeles and San Francisco, the firm has its own team of general contractors, cabinet makers, metal fabricators, site supervisors, and architects. Marmol Radziner is a regular in Architectural Digest's prestigious AD100 list and has completed projects for prestigious clients, such as Tom Ford, Ashton Kutcher and Demi Moore, Steven Meisel, and Ellen DeGeneres. While most of the firm's work is in Southern California, the firm is completing more and more projects in the Bay Area.
Radziner is frequently invited to speak around the country at universities and conferences. He received his Bachelor of Science from California Polytechnic State University in San Luis Obispo and his Master of Architecture at the University of Colorado. Meanwhile, Marmol is an active lecturer on architecture, sustainability, and historical restoration, serving on the board of trustees at the Palm Springs Art Museum. He received his Bachelor of Architecture with a minor in Philosophy from California Polytechnic State University in San Luis Obispo. In 2007, both principals were recognized as Fellows by the AIA, and they were inducted into the Interior Design Hall of Fame in 2009.
Structures and spaces created by Marmol Radziner are characterized by sustainable and finely detailed modernist and contemporary designs. Radziner's home is a clear example of the firm's exemplary work. Echoing the firm's signature approach of harmonizing interiors and exteriors, Radziner designed the house "as a series of sliding planes and rectangular volumes that stop and start to accommodate the trees." The home also touts an interior palette of solid wood and metal furnishings enveloped by an elegant facade of brick and metal panels.
---
Nerland Building and Restoration
724 12th Ave., San Francisco, CA 94122
Focusing on creative and elegant projects tailored to each client's needs, Nerland Building and Restoration (NBR) touts expertise in residential and commercial renovations, remodeling, and additions. Founded by Alex Nerland, the design-build practice guarantees to eliminate the frustration clients experience when conflict arises between architects, designers, and contractors during construction. NBR invites clients to take a hands-on and active approach in the design and building process and acquires the best materials and finishes at the most economical prices.
Nerland has more than a decade of experience renovating houses in San Francisco. He received his degree in Architecture from the University of California, Berkeley and later earned his contractor license. He spent ten years in Silicon Valley working in the technology sector before deciding to couple his business experience with his background in architecture and construction. His wife, Lisa, is also an integral member of NBR. She has worked at NBR for more than a decade and serves as the Co-Designer and Project Manager for all projects. Additionally, Lisa is a licensed California Real Estate Broker.
In each project, NBR finds the right balance of sound design and expert project supervision and execution. This approach allows the firm to consistently deliver well-rounded projects, such as the Cole Valley project featured here. NBR worked closely with the homeowners to create an elegant kitchen that features custom elements throughout including an incredible oversized skylight.
---
Nova Designs + Build
297 Kansas St. Suite C, San Francisco, CA 94103
John Schrader, a licensed general contractor and certified green builder, founded Nova Designs + Builds in 1990. He was joined by Belgium architect Fabien Lannoye in 1999. Schrader has always worked in the creative fields — after studying music composition and classical studies at West Valley College and San Jose State University, he pursued a career as a composer, a professional musician, and an art-oriented entrepreneur. Along the way, Schrader worked on conservation and renovation projects with artists in Soho and Brooklyn and eventually began renovating properties with friends. His unique experiences are reflected in his ability to manipulate the visual and built environment with light, color, and spatial planning.
Meanwhile, Lannoye became a licensed architect in Belgium in 1990. He received his master's degree in architecture from the renowned Institute St. Luc in Belgium. He later founded his own private architectural firm, LYS, and designed residences, restaurants, offices, and industrial spaces. Lannoye was among the elite group of architects to design renovations for the European Community's headquarters in Brussels. In 1996, he moved to San Francisco and worked for various firms, including Hertzka & Knowles, Loving and Campos, and Barrett & Quesada before joining Nova Designs + Builds. Today, the firm is responsible for some of the most elegant home renovations in San Francisco and has completed more than 1,000 projects in the city.
One of the firm's most notable projects is 2250 Vallejo in the coveted Pacific Heights. Originally designed in 1901 by renowned architect James Dunn, the property features a Beaux-Arts facade and intricately carved embellishments. It was brought into the 21st century with a crisp and clean aesthetic and now has unobstructed views of the Golden Gate Bridge, Angel Island, and San Francisco Bay.
---
Podesta Construction
344 Connecticut St., San Francisco, CA 94107
Launched by Jerry Podesta in 1986, Podesta Construction is an award-winning contracting firm that specializes in major residential remodeling throughout San Francisco and San Mateo County. The firm's comprehensive process zeroes in on thoroughly understanding client goals to create functional design solutions while carefully estimating costs, obtaining permits, and overseeing every phase of construction.
Commitment to customer satisfaction drives Podesta Construction to deliver meticulous and innovative design-build solutions, whether a project involves building a new home or remodeling an existing kitchen or bath. In one project, the firm converted the basement of a 1900 home to take advantage of its 13-foot ceiling and eastern views toward Oakland Hills. This exceptional ceiling height was a result of the home's downward sloping lot, and the homeowners wanted to turn the storage room/workspace into a bright, airy room that would provide an easier transition to the rear yard and also serve as a quiet retreat. The resulting basement touts the beauty and function of the original structure but with modern aesthetics—the thoughtful design conceals past renovations but doesn't hide the beauty of the home's age. This project won first place in Basement Conversion; Best Overall, Judges Choice; and a regional Contractor of the Year award, all from the NARI.
---
San Francisco Design Build
171 Lily St., San Francisco, CA 94102
San Francisco Design Build is a full-service residential design and construction firm serving the Bay Area. The practice has decades of experience in architecture, interior design, permit expediting, and construction, having worked on a variety of projects ranging from kitchen and bath remodels to entire home remodels and additions. Additionally, the team partners with the best local subcontractors and vendors to ensure high-quality services and materials.
For the featured project above which has also been featured in Dwell Online, the SFDB team was tasked with remodeling a single-family home located in the Bernal Heights neighborhood. The project's homeowners had been hoping to expand their space, given their growing family. Zoning laws, however, did not allow this and the firm was challenged with having to work within the existing space and maximize whatever they could. As a result, its team added a storage room and used the home's remaining garage space to build a new living area. They also opted for several distinct design details which include a vintage mid-century credenza transformed into a bathroom vanity, a freestanding tub in shower, and several new fixtures. It also added in a custom slat door in one of the home's always, which transforms a specific area into a private workspace.
---
Wallace Remodeling
400 Day St., San Francisco, CA 94131
Building in San Francisco for over four decades has allowed Wallace Remodeling to develop a reputation for integrity and commitment to excellence. With a team invested in every aspect of the design-build process, the practice's standard is to deliver quality work and professional service. Working on a variety of remodeling projects has also allowed the firm to hone and advance its building processes and custom designs.
The practice offers residential and commercial general contracting, design-build, and real estate consultation. Among its diverse project types are new construction, remodels, historic restorations, structural and seismic retrofits, and general home and business improvements. Wallace Remodeling also works on projects for multifamily buildings, including soft-story earthquake retrofits. The firm touts a wealth of knowledge of the San Francisco Building Code, bringing added value during the design and permit planning phases of different projects.
For Wallace Remodeling, the keys to its success are communication, teamwork, superior craftsmanship and exceptional leadership. The firm is led by Kevin Wallace, a NARI Certified Remodeler—a distinction based upon extensive industry experience and adherence to NARI's strict Code of Ethics for honesty, integrity, and responsibility.
---
Zack | de Vito Architecture + Construction
156 S Park St., San Francisco, CA 94107
Zack | de Vito Architecture + Construction is a premier design-build firm in San Francisco with an impressive resume of residential and commercial projects. The firm's simple, clean, and modern designs have been recognized with several regional and local AIA awards and have been featured in numerous publications, books, and exhibitions.
Founded in 1991 by Jim Zack, and joined by co-owner Lise de Vito in 1997, the firm is devoted to designing site-specific buildings with exquisite craftsmanship. Zack earned his Bachelor's and Masters in Architecture at the University of California, Berkeley. Meanwhile, de Vito earned her degree in Architecture from the Rhode Island School of Design. Zack | de Vito Architecture + Construction has more than 30 years of hands-on experience as both architect and builder. The firm's philosophy is to approach the design and construction of buildings with the same attention to detail as one would finely-crafted furniture, while still focusing on the bigger picture of program, structure, and budget. The firm's style is markedly modern, with an emphasis on simple forms and materials and finely crafted details.
Zack | de Vito Architecture + Construction works on a range of projects, including custom single-family and multifamily homes, high-rise apartments, restaurants, commercial and retail spaces, and education projects. In particular, its design-build division focuses on single-family and multifamily buildings as well as mixed-use projects.
The firm constructed this custom multifamily residence, transforming an idyllic courtyard compound into two spatially dynamic, efficient homes. Both buildings are made primarily of steel, each touting hand-crafted design detailing and a standardized palette of finishes yet being completely independent of each other experientially.
---
Zeus Remodeling
601 Myra Way, San Francisco, CA 94127
Zeus Remodeling has helped revitalize San Francisco, San Mateo, and Marin County with its brilliant remodeling and construction projects since 2005. The company was founded by Paul Asadov—an experienced craftsman, designer, and recognized artist who has collaborated with renowned brands such as Neiman Marcus and Leftbank Art. By injecting his distinctive aesthetics and expertise into the firm's design-build projects, Asadov has set neighborhood price records in The City.
The company's areas of expertise include high-end remodeling and construction, kitchen and bath remodeling, and additions. Zeus Remodeling also offers custom cabinetry, home theaters and soundproofing, steam rooms, acrylic stucco and plastering, concrete works, and custom fireplaces. Driven by the tenets of honesty and high-quality work, the company continues to grow its expertise, regularly collaborating with established industry professionals to come up with some of the most visually-striking and structurally-sound spaces in the region.