With rolling hills and the sublime Pacific Ocean, San Francisco's natural landscape provides a defined canvas that demands extremely creative and skillful structural and architectural designs. This unique topography has allowed architects to hone their technical abilities while successfully updating classic residences. As a result, the city has fostered some of the most proficient architects and architectural firms across the globe. Yet designing a custom home in San Francisco can get expensive, so it's important to ensure you have an amazing partner.
Our team has evaluated and selected the best residential architects in San Francisco based on a variety of criteria. We looked at factors like experience, mastery of the trade, and industry accreditations and certifications. We also considered awards and press features as well as other recognitions the firm has received in the course of its business. Here is a list of the 15 best San Francisco residential architects: each one is highly capable of designing architecturally-sound and visually-striking structures and spaces in the City by the Bay.
This list includes both licensed architects and residential designers who can both design stunning homes but differ in other services offered. Architects are trained in design, engineering, and project management and have passed a licensing exam. Residential designers typically don't manage projects and plans will need to be approved by a structural engineer. Whether you choose to hire an architect or a residential designer will depend on your project needs and complexity.
---
Aidlin Darling Design
500 Third St. Suite #410, San Francisco, CA 94107
Based in San Francisco, Aidlin Darling Design is a multidisciplinary design firm whose primary goal is to bridge artistry, functionality, and environmental responsibility to projects of varied scales, uses, and purposes. Working alongside numerous clients over the years has helped the firm successfully determine the most appropriate solutions to address different design expectations and site-specific needs. Aidlin Darling Design cultivates a culture of collaboration with clients, consultants, fabricators, and builders. This approach allows the firm to deliver the highest level of management, service, and design to each and every project.
Aidlin Darling Design projects are distinct in that they are characterized by a harmonious combination of poetic spatial relationships, material richness, and pleasing finishes. The Leadership in Energy and Environmental Design or LEED-Platinum, Net Zero Energy home featured below touts kite-like floating roofs and a series of glass pavilions anchored by rammed earth walls. The ecologically-sensitive design also includes wood floors, ceiling, and cabinetry. It also features a high-efficiency envelope, impressive mechanical systems, and greywater recycling.
---
Andrew Skurman Architects
3654 Sacramento St., San Francisco, CA 94118
Andrew Skurman Architects is responsible for some of the Bay Area's most striking and sophisticated custom homes. Specializing in French chateaux, Mediterranean villas, and Georgian country houses, the firm draws from its extensive architectural library and familiarity with European design to integrate modern comfort and conveniences in traditional homes.
Founder Andrew Skurman obtained his Bachelor of Architecture from Cooper Union in New York City in 1976. Since then, he has worn many hats: he worked as a senior associate and a studio director before establishing his own company in 1992. Among Skurman's numerous achievements, he was named a Chevalier of Arts & Letters by the Minister of Culture of France. He is also a Director Emeritus of the Institute of Classical Architecture and Art (ICAA), whose Northern California Chapter awarded the firm five Julia Morgan Awards for excellence in the contemporary practice and support of the classical traditions. One of the firm's notable projects is a Spanish Colonial Estate. Inspired by the terraced villas of Italy and Pazo de Oca in 1783 Galicia, Spain, one of its notable features is a cascading fountain and grotto inspired by Addison Mizner's Casa Bienvenida in Santa Barbara.
---
BAR Architects
901 Battery St. Suite #300, San Francisco, CA 94111
For more than five decades, BAR Architects has operated on the tenets of collaboration and creative thinking. The firm's studio environment and substantial resources enable it to take on highly specialized and personalized architectural projects. The team brings the expertise necessary to create one-of-a-kind homes reflective of unique personalities, needs, and goals. Having worked on custom homes ranging from 2,000 to 20,000 square feet, BAR Architects creates spaces that are contextually sensitive and thoughtfully designed to embody the individual vision of its clients.
Working on a variety of projects has allowed the firm to hone and advance its processes and architectural designs. For instance, BAR Architects brought this 1924 home to the modern era with a renovation that highlighted large, open, and naturally lit rooms that offer an elegant backdrop for an extensive art collection. The historic home was designed and built by architect G. Albert Lansburgh, and the BAR Architects team was called to remodel the structure to accommodate a family and their collection of modern art.
Photo by Matthew Millman Photography
Some of the home's distinct design features include a Donald Judd-inspired, cantilevered stone staircase with hammered bronze railing. The home also touts a gallery, a sauna, an exercise room, and a game room complete with a wet bar and a wood-burning fireplace. The project was designed with a future elevator and an outdoor lap pool in mind.
---
Butler Armsden
1420 Sutter St., 1st Floor, San Francisco, CA 94109
Lewis Butler's diverse talents in home design can be seen across the Bay Area, where he has worked for over 30 years. He earned his Bachelor's in Civil Engineering from Stanford University and a Masters of Architecture at Harvard University—experiences that provided him with extensive knowledge of and exposure to various facets of architecture. Butler is the president of the San Francisco firm, which he co-founded in 1985 with spouse Catherine Armsden. Butler Armsden specializes in new builds and renovations and is known within the city's architecture scene for complete involvement in all stages of home design and construction. The team brings a variety of methods into the process, including renderings, models, virtual reality, and reams of sketches to envision the most challenging client goals.
Tucked in between tufts of cypress trees on a jagged cliff overlooking the Pacific Ocean, an architectural assembly becomes a family vacation home. The home, located in the 1960s planned community of Sea Ranch, shares distinguishing elements with its neighboring buildings — muted hues, vertical wood siding, dramatic views — while giving the clients, a San Francisco-based couple in search of a secluded retreat, details all their own. The living room guides views back through floor-to-ceiling windows out onto the water, while in the bedroom and family room, smaller openings invite introspective contemplation. Every space expresses the precise desires of the clients, as furniture and finishes interact delicately, in particular in the two office spaces, where the personalities of the couple shine through. In his office, star-fire-glass custom-made desk surface sits atop two steel bases reminiscent of the fins of a turbine engine. In hers, a cushioned window seat suspends anyone who sits in it over the Pacific Coast. An overall effect of soft blurring between light and dark, soft and hard, inside and outside, roots this house— and its inhabitants— in its surroundings.
---
Ehrlich Yanai Rhee Chaney Architects
797 22nd St. San Francisco, CA 94107
2015 American Institute of Architects (AIA) Architecture Firm Awardee Ehrlich Yanai Rhee Chaney Architects (EYRC) has been championing California modernism in San Francisco and beyond since 1979. Leading the way in designing with respect for culture and environment is Royal Institute of British Architects (RIBA) member and AIA Fellow (FAIA) founder Steven Ehrlich, whose six years working in Africa shaped the firm's foundation. Joining him as partners are Residential Studio Director Takashi Yanai, FAIA, Design-Build Institute of America (DBIA) member and Leadership in Energy and Environmental Design Accredited Professional (LEED AP) Patricia Rhee, FAIA, and Mathew Chaney, AIA, DBIA, LEED AP. Takashi is also currently the San Francisco office leader.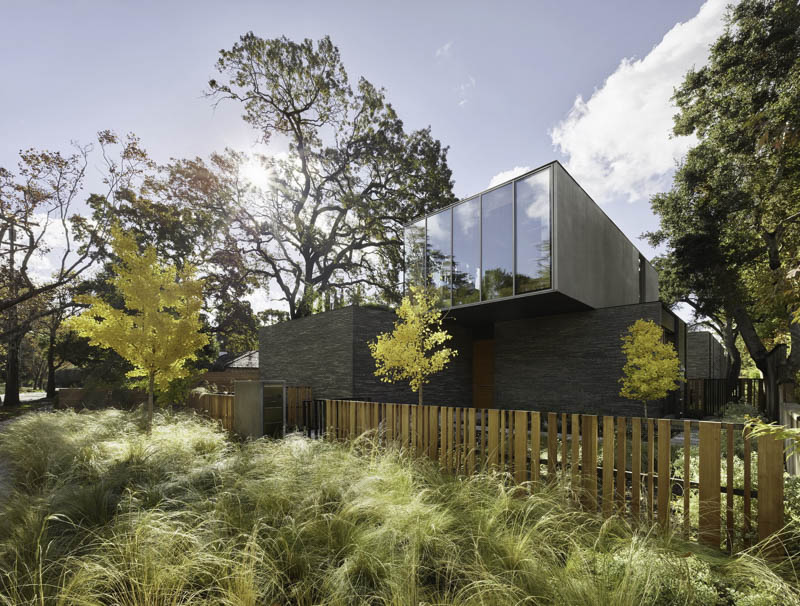 Floor-to-ceiling glazed openings line the solid volumes that make up this 5,000-square-foot Palo Alto home, the Waverly, capturing natural light as they connect the interior with the surroundings. EYRC designed the ground floor volumes to be wrapped in elongated hand-fired brick to highlight the way they lie on the flat 21,000-square-foot lot. Stainless steel panels and oversized aluminum-frame windows give the second floor a light, open character nestled among the oak tree canopies. A retractable steel mesh screen sets the kitchen apart from the adjacent entertainment areas. An exterior trellis connects the main structure to the fitness studio and guesthouse in the back, framing the rich landscape of native California plant species.
---
Feldmen Architecture
1648 Pacific Ave. Suite B, San Francisco, CA 94109
Jonathan Feldman founded Feldman Architecture in 2003, which quickly grew to become one of San Francisco's premier design studios. Feldman began his career in architecture by renovating old Victorians—this work gave him valuable experience in successfully incorporating contemporary designs alongside traditional San Francisco styles. Feldman Architecture is dedicated to creating buildings that sit gracefully and lightly on the earth: beautiful, healthful, and soulful spaces that enhance their clients' lives and the environment. Feldman Architecture's designs have been recognized with many awards, including the Best of the Year by Interior Design, a Citation Award by AIA Monterey Bay, and an Honor Award from the International Interior Design Association (IIDA) as well as a Chicago Athenaeum American Architecture Award.
Among Feldman Architecture's stunning projects is the playful Fitty Wun, a remodel of a circa 1915 Marina style house into a large, light-filled modern home where the client's family will flourish and play.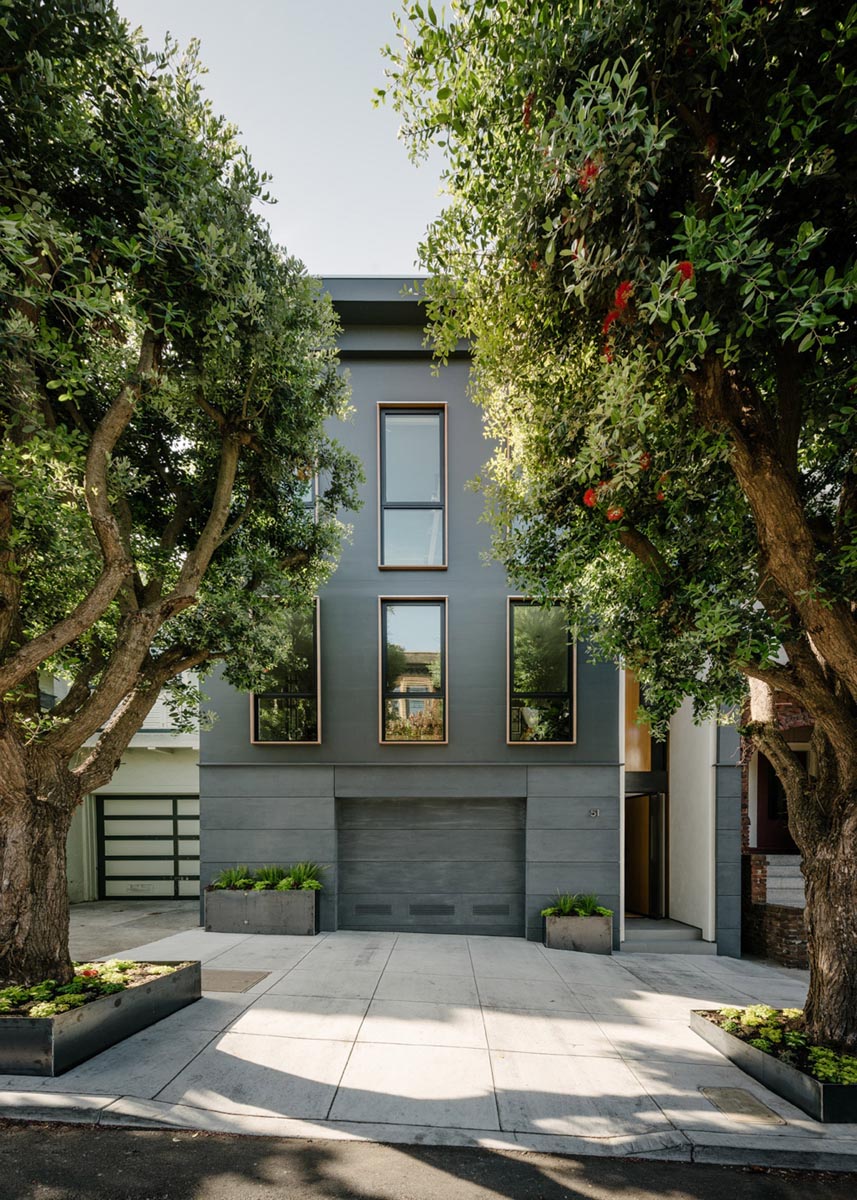 The completely reworked front facade is an interpretation of a traditional townhouse— a simple composition that blends in with the neighborhood but hints at the modern interior through scale material choice and updated details. In contrast, the modern composition of the rear facade more directly reflects the modern sensibility of the interior architecture with large apertures to bring in light and form a connection to the rear yard. The newly excavated sunken courtyard provides both the physical connection and natural light to the au pair's bedroom and the family room located in the basement level.
More text on the project here: https://feldmanarchitecture.com/project/fitty-wun/
---
Fougeron Architecture
521 Francisco St., San Francisco, CA 94133
Fougeron Architecture has been creating lasting impressions since 1985 thanks to its distinctive designs and its modernist approach. The design firm has made a name for itself across the nation for its strong commitment to clarity of thought, design integrity, and quality of architectural detail. The firm's founder, Anne Fougeron, has a proven track record as an accomplished San Francisco-based architect and was honored as one of the Bay Area's Most Influential Women in Business in 2018.
The firm operates with the philosophy of maintaining collaborative relationships with homeowners as well as expert craftspeople and artists to ensure the success of any project. This dedication to finding the perfect alignment between architectural idea and built form has resulted in numerous beautiful and functional spaces, one of which is the Cut Out House. Fougeron Architecture remodeled this 2,500-square-foot, three-bedroom Victorian home that was built over a century ago and has remained untouched since the 1920s. This project won the 2017 American Institute of Architects (AIA) California Council Residential Design Award and was featured in a number of publications, including being on the covers of Abitare and Dwell Magazine.
To modernize the home, Fougeron Architecture had to completely reorganize the existing interior structure: the team turned the back of the site into the main living area and utilized suspended floors so that the home connects vertically rather than horizontally. As a result, there is brightness and fluidity throughout the home. Perhaps the most distinguishing feature of the house is the back façade, built with a custom field-glazed steel frame, insulated glass, and tilted at 9 degrees. The canted exterior maximizes space and square footage.
---
Geddes Ulkinkas Architects
771 Clementina St., San Francisco, CA 94103
With over two decades of architectural experience, Geddes Ulinskas is trusted by the city's most elite clients to renovate homes and create beautiful and uniquely functional custom spaces. Originally wanting to be a commercial artist or illustrator, Geddes was drawn to architecture when Pratt Institute awarded him a full merit-based scholarship to their Architecture Program. After obtaining his degree, Ulinskas worked for several distinguished architects in the region before starting his own firm—Geddes Ulinskas Architects—in 2005.
The firm's design and construction projects can be found throughout the Bay Area as well as in Los Angeles, New York City, and Hawaii. Known for placing a strong emphasis on materials and detail, the firm's portfolio features contemporary envelopes that highlight surrounding views and interior vistas that showcase art, furnishings, and objects. This emphasis is evident in the firm's work on this penthouse unit on the 59th floor of San Francisco's Millennium Tower. Built for a musician and art collector, this custom residence touts a performance area with specialized acoustic ceiling panels and a full audio system for voice and instrumentals. Special acoustical details were incorporated into each space without any compromise to the overall aesthetics and architectural inspiration.
---
House + House Architects
1499 Washington St., San Francisco, CA 94109
In 1989, Architecture Magazine named House + House Architects as an emerging talent to keep an eye on—they weren't wrong. The duo-led firm focused on designing creative, sustainable, and modern homes throughout the Bay Area, which has enabled it to rise to the top of the city's architectural scene. House + House Architects has won over 50 design awards and its work has been featured in many national and international publications. Steven and Cathi are also the authors of four books documenting their work.
The principals and founders, Cathi and Steven House, cite their vast travel experiences as inspiration for their work, having spent extensive time in Europe, Asia, Africa, and Latin America. As a result, they have a keen ability to incorporate traditional elements into nuanced, contemporary designs. They are also known for designing homes with a strong connection to nature and the outdoors; both principals are committed to sustainability and incorporate green design elements throughout each home and landscape. Outside of their practice, Cathi and Steven are dedicated to educating and contributing to the development of architectural theory and practice. They have lectured across the United States and Mexico and both served on the Dean's Advisory Board for College of Architecture & Urban Studies at Virginia Tech. They also established The Center for Architecture, Sustainability + Art (CASA), a study abroad program in the UNESCO World Heritage Site of San Miguel de Allende, Mexico.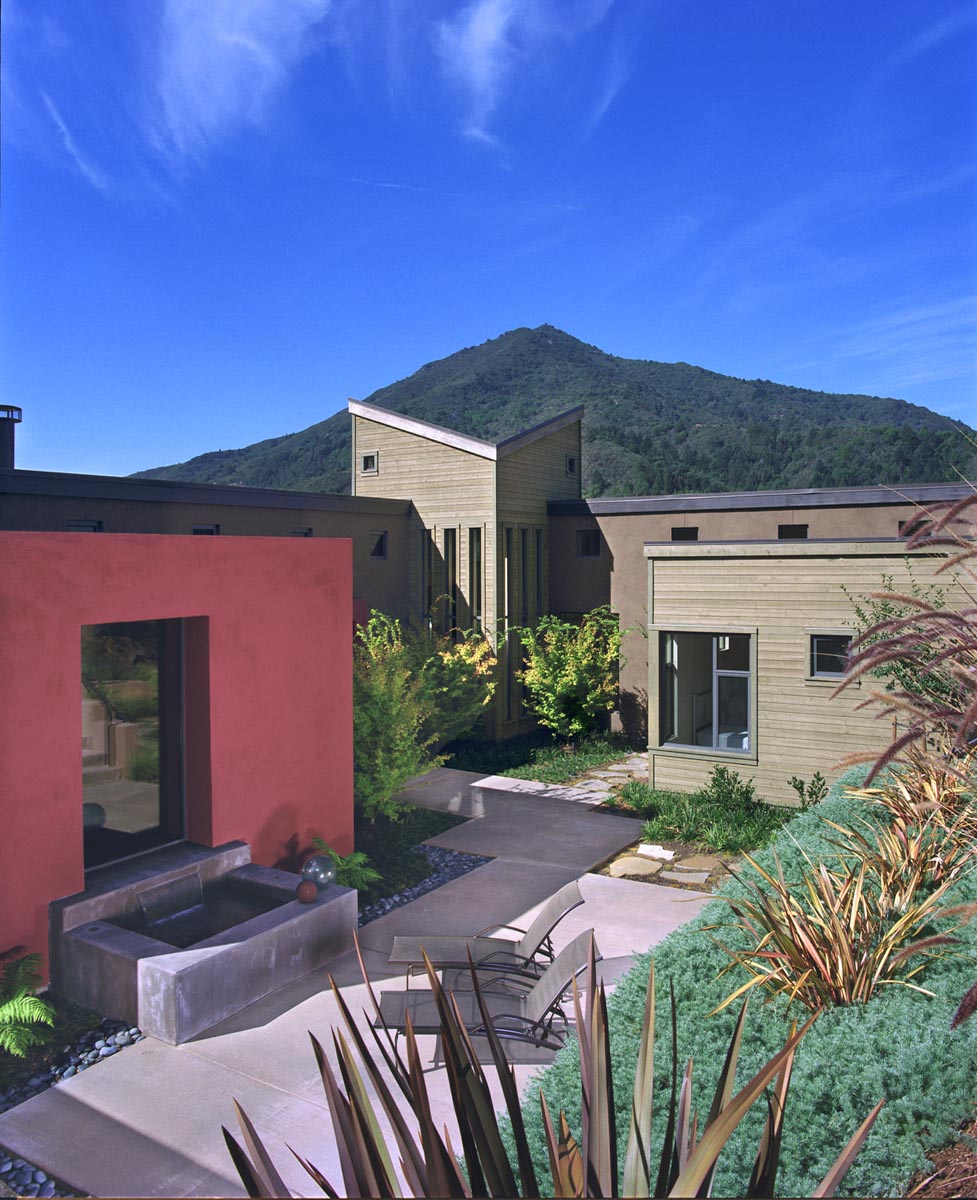 Included in the firm's diverse range of work, this home, perched on a west-facing hillside north of San Francisco with spectacular views to Mount Tamalpias, gently embraces its site. Comprised of two intersecting wings, the connecting tower's inverted butterfly roof frames the mountain peak. To take advantage of the site's limited flat area the 'L' shaped home is pushed to the edge of the slope to wrap around a level garden courtyard. This courtyard is the primary outdoor space for relaxation, play and entertaining. Sunlight pours into the terraced gardens laced with sculpted walkways to the spa, the rear entry and the children's play area. A wide ribbon of water spills from the wall into a cool fountain outside the dining room window, sending ripples of sound and reflections of light. Thickened red stucco walls frame doorways, marking portals between the home and the lush courtyard that glows, whether from the sun or from sparkles of light at night.
---
JENSEN Architects
833 Market St., 7th Floor, San Francisco, CA 94103
JENSEN Architects is an architecture and interiors practice adept in realizing the multifaceted design visions of individuals, businesses, and organizations. The team brings to every project a wide-ranging experience—encompassing arts, education, residential, office, and retail—as well as sustainable architectural solutions that use the fewest possible resources. This expertise and resource efficiency help the firm to come up with innovatively designed and visually-striking spaces.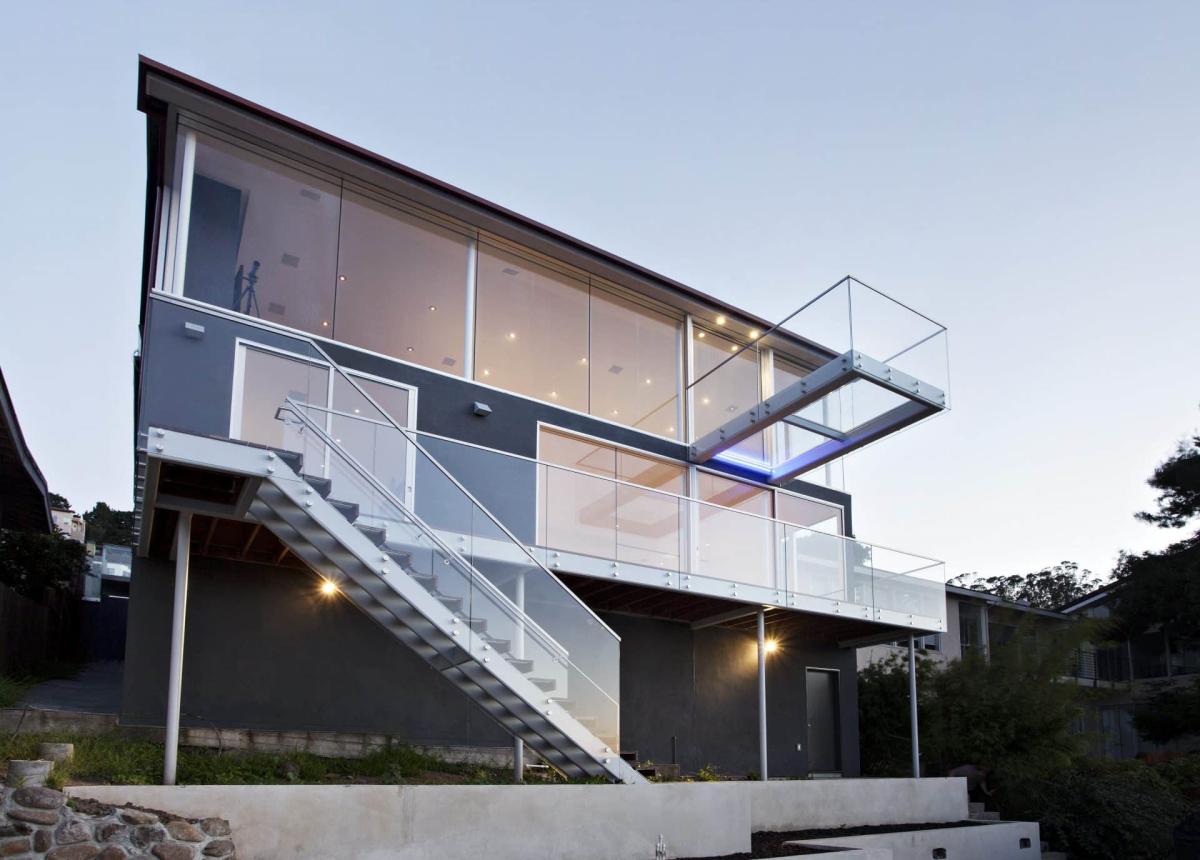 The firm redefined the phrase "breathtaking views" with this bold renovation of a Twin Peaks home. JENSEN Architects furnished the top floor of this residence with a magnificent glass deck, providing this hillside house with sweeping city and bay views. This floating structure and the floor-to-ceiling windows extending around the corners also give the home a transparent, lighter-than-air feel, making the entire home a sight to behold.
---
Kuth Ranieri Architects
725 Greenwich St. Suite #400, San Francisco, CA 94133
Kuth Ranieri Architects has earned a national reputation for building innovative homes that integrate contemporary design principles. Founding principals Byron Kuth and Elizabeth Ranieri have both been recognized as Fellows by the AIA. They are LEED AP certified and are at the forefront of sustainable practices and green design: they launched the Deep Green Design Alliance in 2003, a multidisciplinary architecture and urban design think tank focused on sustainable strategies. What's more, Kuth Ranieri Architects is committed to research and development on new materials, water conservation and treatment, and ways to handle and adapt to rising sea levels.
The firm's renovation of a four-level urban courtyard house, designed by William Wurster in 1960, focused on the linking of the residence to the city and the outdoors. To provide contemporary touches to the home, Kuth Ranieri Architects opened the living space, added a guest wing under the garage, and expanded the connection to the courtyard and surrounding neighborhood. This project won an Excellence in Interior Architecture Merit Award from the AIA San Francisco or AIASF's Best of the Bay.
---
Mark English Architects
315 Sutter Street 5th Floor, San Francisco, Ca 94108
Founded in 1992, Mark English Architects is a full-service design firm focused on urban residential and entertainment building, with at least half of its work in San Francisco. The practice is based in Downtown San Francisco and has designed numerous residential and entertainment spaces throughout California, Texas, and Mexico. The firm's eponymous founder is a leader in the San Francisco architecture community, having served as the director of AIASF from 2011 to 2014 and editor of respected online magazine Architects' Take, among many other professional activities and associations. English earned a bachelor of architecture degree at California Polytechnic University and a master of architecture degree at the Syracuse University campus in Florence, Italy.
The firm is known for its beautiful modern architecture; its designs have been featured in many books and national publications. One remarkable project is the Lighthouse II. This project involved the renovation of an existing single-family hillside home with a private dock overhanging the San Francisco Bay in the bayside town of Sausalito. The original home was designed in a descending pinwheel fashion, converging in a "crow's nest" viewing room above the master bedroom. However, the old roof configuration limited the size and location of view windows, and the interior walls blocked exterior views. The Mark English team lifted up the facets of the roof to allow for immense view windows and sliding doors, successfully opening up the interior layout.
The construction process was unique in that construction traffic to and from the building site had to be funneled through the dock. Additionally, all demolition material and debris were off-loaded to barges under the observation of the Bay Conservation and Development Commission (BCDC).
---
OPA (Ogrydziak Prillinger Architects)
1392 Pacific Ave., San Francisco, CA 94109
OPA is considered one of the nation's most influential architectural practices. Its work has been featured in international publications—including the New York Times—and gained recognition in the form of numerous awards from the San Francisco and California chapters of AIA. OPA's stunning creations that dot the city demonstrate the firm's ability to carefully translate each client's unique needs into designs.
Luke Ogrydziak and Zoë Prillinger founded OPA in 2004. Ogrydziak and Prillinger received their Bachelors' of Arts in Architecture and Masters in Architecture from Princeton University. At Princeton, Ogrydziak received the Shellman Award for architectural representation. Meanwhile, prior to founding the firm, Prillinger acquired architectural experience in Melbourne, Paris, New York City, and San Francisco. Both have also taught at Harvard University and the University of California, Berkeley.
In 2014, OPA was hired to design a loft that "looks to the future" within a historic building shell. The owners wanted to combine familiar regular forms with more dynamic elements that suggest motion and spinning. OPA designed the walls as if it was made of a single sheet of paper that was folded and pinched. This project was honored with an Interior Architecture Citation in 2017 by AIASF and a special mention in the Architizer A+ Awards in the same year. It was also featured in the architecture magazine Mark Magazine.
---
Paulett Taggart Architects
725 Greenwich St., San Francisco, CA 94133
An AIA Fellow, Paulett Taggart founded Paulett Taggart Architects in 1986, which she now runs with fellow architect Eric Robinson. Taggart has taught at UC Berkeley and the California College of the Arts and was a member of LINE—the journal of AIASF—as well as the AIASF/SFMOMA Lecture Committee, among many other local organizations. Taggart received her bachelor's degree from the University of Oregon and her Masters in Architecture from Harvard University.
The Paulett Taggart Architects team operates in an interactive way, conversing with clients and developing ideas, then expanding and refining them until the team comes up with a design that is not only functional but visually stunning. The firm's designs primarily focus on spaces that pay attention to the interplay of light, materials, and the formal qualities of structure. In the featured project, the firm designed a rooftop addition to increase natural light in a Telegraph Hill row house. The team created a three-story glass wall and open stairs at the center of the house to spread light throughout and connect the living spaces from top to bottom. The team also installed rooftop photovoltaic panels, increased the insulation of the envelope, and used recycled, renewable, and non-toxic materials as part of the project's sustainability efforts.
---
Terry and Terry Architecture
415 Diamond St., San Francisco, CA 94114
Terry and Terry Architecture has over 40 years of combined architectural experience around the Bay Area. The firm's innovative home designs incorporate the newest practices in architectural design and theory and have been recognized with many Spark Design Awards as well as awards from local and regional AIA chapters. The practice was founded by Alexander and Ivan Terry. Before launching their own architecture practice, the partners gained valuable experience exploring design challenges at all levels. The two both possess Bachelor's and Masters in Architecture degrees from UC Berkeley, allowing them to offer design concepts and professional production services in architecture.
The firm's principals bring unique and useful perspectives to their design work. And their experience with building construction and fabrication has enabled them to acquire firsthand knowledge of the relationship between concepts, construction, and project realization. The featured project is a great manifestation of the firm's expertise. Terry and Terry Architecture renovated and created a single-story addition to an existing mid-century ranch house in Menlo Park. Designed for a retired couple, the open and accessible layout integrates the living space with the rear garden. The addition is comprised of two floating volumes that gradually diverge from the original structure to generate a glass-clad fissure in between. This space pulls the garden inwards, injecting elements of the outdoors into the core of the house.
---
Walker Warner Architects
353 Folsom St., San Francisco, CA 94105
For over three decades, Walker Warner Architects has taken a forward-thinking approach to architectural design. Specializing in custom residential and estate design, as well as winery, commercial office, and recreation club design, the firm has completed projects across the western U.S. and Hawaii.
Greg Warner, Brooks Walker, Mike McCabe, and Kathy Scott serve as the firm's four pillars. Each equally established architect brings in diverse knowledge and techniques in design. Growing up on the Hawaiian Islands, Warner's designs are heavily influenced by climate and nature. He is particularly focused on creating contextually appropriate designs that consider the unique environment of each project. This approach combines perfectly with Walker's, who grew up exploring how famed architects William Wurster, Joseph Esherick, and Frank Lloyd Wright-designed buildings In San Francisco. Meanwhile, Renzo Piano's Menil Collection is what sparked Scott's interest in architecture. Its subtle contextualism, simplicity, and creative play with natural light inspired similar works led by Scott upon joining the firm in 1995. Fellow LEED Accredited Professional, McCabe, who joined the team in 1997, shares a rich background when it comes to designs after having lived and traveled all over the US, Poland, Germany, and India. He draws inspiration from both local and international cultures in creating a timeless architectural design. With the four principal's management, the firm has completed numerous successful projects since 1989.
Walker Warner's portfolio demonstrates the firm's versatility and ability to adapt to the unique needs of each client and site. For this Tiburon Bay View residence, the team designed the home to feature a material palette of Aegean limestone, western red cedar, zinc, and board-formed concrete and make the structure blend with its surroundings. Additionally, the firm terraced the low-slung architecture into the hillside to create fluid indoor-outdoor connections. This project was featured in several publications—including Dwell, Elle Décor Spain, ArchDaily, California Home + Design, and Luxe San Francisco—a testament to the firm's eye and talent for breathtaking structures.
---
Atelier Derek Uskert
2660 35th Avenue, San Francisco, CA 94116
Atelier Derek Uskert is an award-winning architecture firm, founded in 2009, with clients throughout the United States. Making luxury accessible, the team implements a client-focused, cost-sensitive, bespoke approach towards design. Well-known as a creator of one-of-a-kind luxury homes of both traditional and classical styles, founder Derek Uskert is also sought after for his innovative use of virtual reality technologies for residential design. Uskert is a second-generation architect born and raised in San Francisco. He earned his Bachelor's Degree in Architecture from the California Polytechnic State University, San Luis Obispo. He brings his values of craftsmanship, excellence, integrity, and good communication to every Atelier project.
Over the years, the firm has collected many notable accolades for its work including Most Innovative Designer from the BUILD Architecture Awards and a kitchen design award from Thermador. This project for an Emmy Award-winning CBS producer exemplifies Uskert's design approach. All cabinetry, painted wood paneling, doors, and windows in the space were designed by Atelier Derek Uskert and handmade by talented craftsmen.